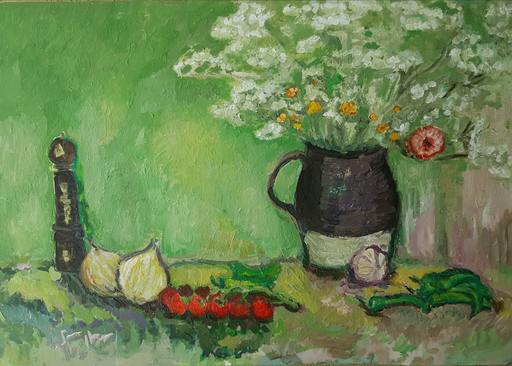 Tanja Koelemij's work is full of color, thoughts, and scenes of the artist's everyday life.
She understands how, when one is thinking about color, one can be totally overrun by this process. Once this creative port is open it's difficult to shut down or even to channel. It is difficult but she has to do it to enable to enjoy everyday life, something she, of course, also loves to do. That is her personal balance. In Koelemij's work it ends up producing a sense of harmony in the viewer. As the fight for balance is key.
Mixing color in texture is both a technique as well as a feeling, a ying and a yang and she adores being able to use both. Koelemij uses energy in quick brushstrokes, which shows in the thick layer of paint. It leaves a footprint and is another essential part of her work.
Tanja Koelemij is from the Netherlands, which shows in her work and she has painted for a long time but then stopped altogether for over three years. Then she conquered her fear of making corny housewife still life and she started again placing herself more central. So she started to paint things which are actually in her house. She never has to look far to be inspired. Creating these own little worlds full of life. Instagram @artbykoelemij